| | |
| --- | --- |
| Where: | Oxford - Magdalen College Tower |
| When: | May 1 |
| Time: | 6am |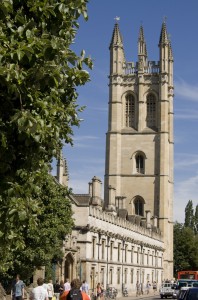 Each May Day morning the choir of Magdalen College climb to the top of the tower to sing a Te Deum to the assembled crowd below. Expect bellringing, entertainers and morris dancing to welcome in the month of May. The origins of the custom are believed to lie in festivities of 1509 to celebrate the completion of the magnificent tower and it is a firm fixture in the Oxford calendar.
Helpful Hints
Expect large crowds (literally thousands of people are likely to be there so allow plenty of time).There used to be a similar custom at Southampton's  Bargate each May 1 (see separate article)
Click here for the college website : http://www.magd.ox.ac.uk/
Photo by Lawrence OP.
View larger map