| | |
| --- | --- |
| Where: | Oxford, Oxfordshire at St John's Quad in Magdalen College |
| When: | Sunday near 24th June |
| Time: | 10am |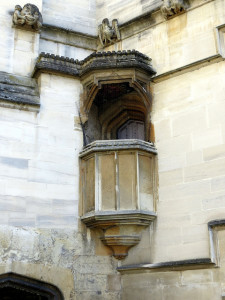 Magdalen College is built on the site of the former hospital of St John the Baptist and his feast day is celebrated each year with a sermon from the outdoor pulpit situated in St John's Quad. Nowadays it's on a Sunday near to the Feast Day of 24th June and as it's a public sermon, all are welcome to attend. It's a late fifteenth century stone structure of a type once common but now rarely found in the UK.
Helpful Hints
The pulpit is situated in the south-east corner of the quadrangle.
In 2017 it was on Sunday June 18th – 2018 date is yet to be announced.
Click here for the College website : http://www.magd.ox.ac.uk/
Photo by Charles D P Miller.
View larger map