| | |
| --- | --- |
| Where: | Mossley, Greater Manchester starting at the Rising Sun Inn, 235 Stockport Road and Middleton, Greater Manchester ending at the Ring o'Bells in St Leonards Square |
| When: | Easter Monday |
| Time: | At intervals from 12 noon |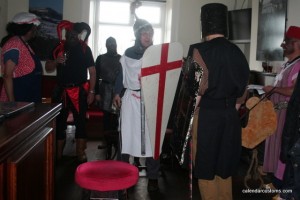 Pace Egging Plays are traditional mumming plays with their own unique character and are performed during Eastertide, mainly in the north-western corner of England. They are typically hero-combat plays with fight scenes and the revival of one protagonist by a doctor but also have some unique songs and characters like Tosspot who don't appear anywhere else. The name comes from the players or their attendants in past years begging for eggs for the Easter season. Two well known andwell established current examples are at Mossley and Middleton, and other groups also perform on Easter Monday and on Good Friday (see article on Calder Valley Pace Egg plays). Two very different styles of Doctor can be seen on the photos, and the Mossley group have a unique figure in the form of the Black Knight of Ashton, a local bogeyman, while Middleton have a horse! Middleton's last performance of the day is usually outside (but not in wet 2012!) followed by Easter Egg rolling for the children.
Helpful Hints
In 2018 Easter Monday will be April 2nd.
Check the website links for the full timetables and venue details as they are subject to change at short notice. Mossley Morris Men usually perform their play at 3/4 hour intervals throughout the day at several pubs but appeared to be taking a break in 2017 – please let me know if you've heard otherwise! Middleton Pace Eggers perform from noon onwards, also at several pubs, ending at 3.30 approx at the Ring o' Bells. My camera had a blip whilst at Middleton, otherwise I'd have taken more photos.
Click here for the Mossley website : http://mossleymorrismen.weebly.com/index.html
Click here for Middleton : https://www.facebook.com/Middleton-Pace-Egg-Play-502663033177579/
View larger map