| | |
| --- | --- |
| Where: | Padstow, Cornwall - all around town |
| When: | 1st May (unless this falls on Sunday in which case the event is held on Monday 2nd) |
| Time: | All day.Blue Ribbon 'Oss from 10 am at the Institute on Market Street & Old 'Oss from 11am at the Golden Lion on Lanadwell Street |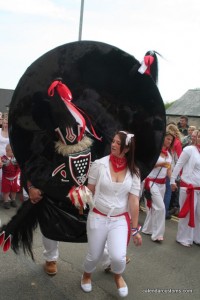 Padstow has two hobby horses who tour the town every May 1st : the Old 'Oss and Blue Ribbon 'Oss who are really men inside elaborately constructed costumes with painted masks. They dance separately all day accompanied by a Teaser with a stick, and  musicians playing their special May Song; at intervals the 'Oss "dies" and is revived and in the evening the two dance together. Origins of the custom are lost in the mists of time – fertility rites are often suggested but no-one really knows. Expect large crowds!
Helpful Hints
If you are staying in town, listen out for singing just after midnight on May 1st from the area of the Golden Lion – that's the real start! The processions and dancing last all day with the first official outing of the Osses from the Institute at 10am and Golden Lion at 11am. Be aware that this festival is run by the locals for the locals – visitors are tolerated but try not to get in the way!
Click here to find out more : https://padstowobbyoss.wordpress.com/about/
View larger map