| | |
| --- | --- |
| Where: | Pagham, West Sussex at Mill Farm / Downlands Close on Pagham Road, Nyetimber |
| When: | Boxing Day 26th December |
| Time: | 11 am |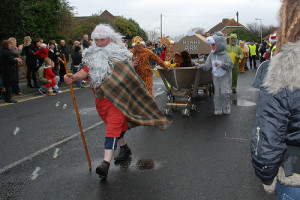 Pagham Pram Race is the oldest event of its kind in the world! It all started just after World War II when a group of soldiers returned from the conflict full of bright ideas for some peacetime fun – the pram race was born with a fruit cake as the prize for the winners. The 3-mile course in a  route around the village takes in local pubs and entrants must drink three pints en route in order to comply with the rules. Competitors complete the course in pairs (one pushing and one riding in the pram) or groups and must of course be over 18; they must walk briskly as running is not permitted. The money raised is donated to local good causes. Expect some crazy costumes and up to 60 entrants.
Helpful Hints
Entrants may register on the day from 9.30 onwards – the current rate is £10 per pram. It goes ahead regardless of weather conditions!
The race rules are available in full on the event website.
Click here for the event website: http://www.paghampramrace.com
Photo by Pete Edgeler.
View larger map