| | |
| --- | --- |
| Where: | Painswick, Gloucestershire at St.Mary's Church |
| When: | Sunday on or 1st after 19th September |
| Time: | 3pm |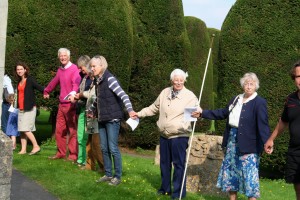 "Clypping" is derived from an Old English term meaning encirclement, and on this day the parishioners of St. Mary's at Painwick join hands around the church exterior and dance around it singing their Clipping Hymn. It's the patronal festival as the church is dedicated to the Blessed Virgin Mary and her nativity is celebrated at this time of year. Many churches formerly celebrated in a similar way but their customs died out; at Painswick it was revived in Victorian times but no-one knows when it first began. Clypping in this sense has nothing to do with clipping trees, though sometimes confusion has arisen because Painswick churchyard has a fine group of 99 trimmed yew trees. Puppy Dog Pie is served before the service but luckily these days the puppies are made of beef- there is a surely apocryphal tale about the local innkeeper serving up his dog after running out of food for travellers. The service takes place completely outdoors beginning with a procession of the celebrants around the churchyard accompanied by the Salvation Army Band, crosses and banners. Well-known hymns are sung in addition to the special Clypping Hymn; at this point the congregation join hands and dance back and forward towards the building in a motion described to me as "rather like the hokey-cokey". The guest Preacher receives a basket of 2 Clypping Buns and after the service children receive a Bun and a coin in the church.
Helpful Hints
The Fete and Apple Day are now incorporated into an all-day celebration called Painswick Feast – arrive early if you want to sample Puppy Dog Pie (it had all gone by around 1.30 when we went – we found ourselves eyeing up a nearby Jack Russell….). The service lasts around an hour – all are welcome and the atmosphere is friendly and informal.
In 2017 it will be on Sunday  24th September.
Click here for the church website :http://stmaryspainswick.org.uk/
View larger map