| | |
| --- | --- |
| Where: | Paisley, Renfrewshire starting at the Brodie Park, and burning at Abbey Close |
| When: | 1st Saturday in July |
| Time: | 12 noon until 1pm Parade, 1.30 pm approx burning |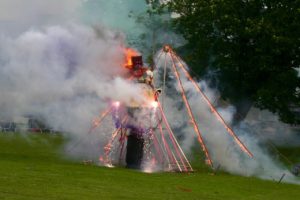 Sma' Shot was the name given to the thread used by the makers of Paisley shawls to bind the colourful weft threads together and was the cause of an industrial dispute when the factory owners and overseers refused to pay for it. The shawl weavers could ill afford to pay for the thread themselves and after a prolonged dispute they won their case over the "corks" as the manufacturers' overseers were know locally. The first Saturday in July was an established weavers holiday and in 1856 it was renamed Sma' Shot Day to commemorate the victory of the workers. Today the large parade follows a route from Brodie Park around the streets of the town to Abbey Close to the beat of the Charleston Drum, the traditional accompaniment used to summon the weavers in troubled times, with a giant effigy of a Cork in the procession and many performers, dancers and musicians. Street theatre, food & drink and entertainments follow and the Cork is ceremonially burned!
Helpful Hints
In 2018 it will be on Saturday July 7th.
Click here for more: http://www.renfrewshireleisure.com/whats-on
and here: http://www.paisley.org.uk/events/sma-shot-day/
and here for programme: http://www.paisley2021.co.uk
View larger map