| | |
| --- | --- |
| Where: | Peebles, Peeblesshire -Ride Out from the Church |
| When: | 3rd Week in June with Rideout on Wednesday and Crowning & Grand Procession on Saturday |
| Time: | Ride Out 6.15pm, Crowning 10am,Procession 11.45am |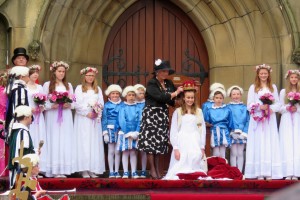 The Beltane Festival in Peebles is a week-long celebration combining a typical Common Riding custom with the Beltane Fair which dates back four hundred years and marks the longest days of summer. Major events in the schedule include the main Common Riding on the Wednesday evening from 6.15 starting at the Church followed by races and the Beltane Fair on the Saturday; this includes the reading of the Proclamation at the Mercat Cross and the Coronation of the Beltane Queen at the Church Steps as well as a huge Grand Procession including equestrians from the early morning Rideout, literally hundreds of children in fancy dress, the Court party and lots of pipers and brass bands to intersperse the floats. During the coronation expect fanfares, curtseying, the singing of the Beltane Festal Song and Coronation Ode and the coronation of the Beltane Queen by the Crowning Lady.Other events include sports, concerts, fancy dress and bands throughout the week.
Helpful Hints
2017 dates are Sunday 18th to Saturday 24th June with the Red Letter Day & Crowning on Saturday 24th.
In 2018 the dates are Sunday 17th to Saturday 23rd June with Red Letter Day and Crowning on Saturday 23rd (to be confirmed).
Programmes are available with complete details of the festival and its history. It takes about 20 minutes for the procession to pass, then it turns and comes back along the High Street so you get to see both sides of the carriages and floats. Watch out for flying sweets thrown to the children and the mad scramble to pick up fallen missiles!
Click here to find out more: http://www.returntotheridings.co.uk/peebles.html
and here for the event website: http://www.peeblesbeltanefestival.co.uk/index.html
and Facebook page: https://www.facebook.com/Peebles-Beltane-Festival-224802844217569/
View larger map