| | |
| --- | --- |
| Where: | Penicuik, Lothian starting at the Town Hall |
| When: | Last week of May with Rideout on the last Saturday |
| Time: | From 8.30 am |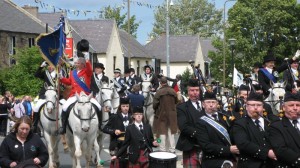 The Penicuik Hunter and Lass festival is a  traditional Border Common Riding with associated events such as sports, parades, music and entertainments leading up to the Rideout on the Saturday. The festival was founded in 1936  and is always held during the last week of May with the Hunter and Lass Day as the main event at the end. It commemorates Robert the Bruce and the Royal Hunt of Rosslyn, when the king granted Penicuik to Randolph de Clerc as a reward for slaying a famous and elusive deer. Expect lots of bugle blowing and flag waving as the cavalcade mark the local boundaries led by the Hunter and Lass; after the procession, there are entertainments during the afternoon at Penicuik Park. The Parade includes sports teams and local clubs and societies, cadets, vintage vehicles and several pipe and brass bands as well as the equestrians.
Helpful Hints
In 2018 the Rideout and Penicuik on Parade will be on Saturday 26th May.
For a detailed history of this and other local events, read Alan McLaren's The History of Midlothian's Local Festivals, 2012. It's available from http://www.loanheadgaladay.co.uk/
Click here for the Penicuik event website : http://www.penicuikhunterandlass.org.uk/
Composite photo by Alan McLaren.
View larger map