| | |
| --- | --- |
| Where: | Hull, East Yorkshire at Pickering Road Community Orchard on PIckering Road |
| When: | May Day Bank Holiday Monday or near Sunday (check link) |
| Time: | 12 noon |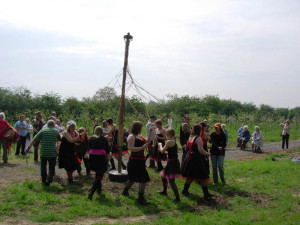 The Community Orchard at Pickering Road was founded as part of the NHS initiative to encourage people to eat their 5-a-day ration of fruit & veg and each year they hold events that tie in with the turning seasons. For their May Celebrations expect dancing around the Maypole, singing,morris dancing by Raving Maes Morris and of course Duncan the Obby Oss. The event lasts all afternoon and the blossom should be out on all the fruit trees.
Helpful Hints
Refreshments, composting toilet and disabled parking are available onsite and the event is free of charge. General parking is on Pickering Road with access to the Orchard from Cranberry Way. All are welcome and it's very family friendly. Picnic facilities are available.
The May Celebrations used to be held on the Sunday preceding May Day Bank Holiday Monday but from 2014 it was on Bank Holiday Monday, and I'd advise checking the events Facebook page as it's isn't firmly fixed yet. 2017 date is Sunday 7th May.In cases of extreme weather the event may be postponed so if in doubt double check before setting off.
The orchard has 350 fruit trees and is run by volunteers who make  fruit juice during the harvest, which is August to November.   Visitors can sponsor the orchard by giving a donation and in return they receive a share of the apple harvest.
To contact the organisers visit:  ygrindley@yahoo.co.uk
You can find the Orchard's Facebook  page here: https://www.facebook.com/groups/141585735857437/?fref=ts
For the Raving Mae's Facebook page click here: https://www.facebook.com/theravingmaes
Thanks to Yvette Grindley for the photograph and for drawing my attention to the event.