| | |
| --- | --- |
| Where: | Plymouth, Devon at the Hoe |
| When: | Tuesday & Wednesday/Wednesday & Thursday in Mid August |
| Time: | Entertainments from 6.30, fireworks from 9.30 |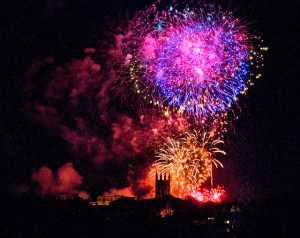 Pyrotechnics enthusiasts head to Plymouth each year for the national championships to decide who makes the best fireworks. The competition is spread over two nights in mid August, with entertainments through the earlier part of the evening from 6.30 until it's dark enough to see the rockets at their best at around 9.30. Members of the public can take part in the judging by voting for their favourite by text – winners are announced within 24 hours of the end of the contest.
Helpful Hints
In 2018 it will be on Wednesday 8th & Thursday 9th August.
The City Council website has plenty of info on parking and other facilities during the event. Click here for that : http://www.plymouth.gov.uk/homepage/leisureandtourism/whatson/eventitem.htm?newsid=223145
Click here for the event website : http://www.britishfireworks.co.uk
Photo by snaps11.
View larger map