| | |
| --- | --- |
| Where: | Ponteland, Northumberland outside the Blackbird Inn, North Road |
| When: | 1st January |
| Time: | 12 noon |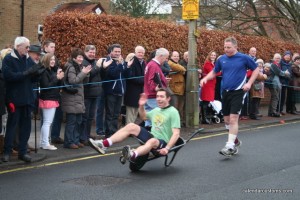 Ponteland Wheelbarrow Race is a charity fundraising event for teams of two (one in the wheelbarrow and the other pushing it, who have to swap positions halfway around). It lasts about quarter of an hour and takes place whatever the weather (2010 saw deep snow in Northumberland). The origins of the race are reputedly ancient and stem from the local landowner requesting his tenants to forage the coutryside for fuel and food, presumably using a wheelbarrow! ( I have a few doubts about this… but if the good people of Ponteland say it is true it surely must be so). There are races for Juniors  as well as the open race, and wheelbarrows are provided.
Helpful Hints
There's ample carparking signposted just up the road from the Blackbird. Food is available  – it smelled great but we were due for lunch elsewhere (we were so tempted by the smell…)
Click here to find out more : http://www.pontelandonline.co.uk/html/wheelbarrow_race.html
View larger map