| | |
| --- | --- |
| Where: | Presteigne, Powys at St Andrew's Church on Broad Street |
| When: | Twice Daily |
| Time: | 7.20 am and 7.30 pm |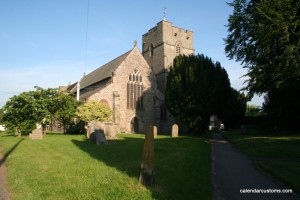 In the past it was common practice for a curfew bell to be rung, to let people know it was time to cover their fires and get to bed. Presteigne is one of the select few places where this still happens! The bell rings twice daily at 7.30 ( both morning and evening) and it's operated by a mechanised system.
Helpful Hints
When we visited in 2013 it actually rang at about 20 past rather than half past seven so allow a little leeway on the timing otherwise you might miss it. It lasts just a couple of minutes.
If the church is open, look out for the Flemish Tapestry – over 500 years old.In the churchyard there's a wordy tombstone to Mary Morgan not far from the porch with a tale of woe from the good old days…you can't miss it.
The curfew at Presteigne inspired Phil Rickman's excellent creepy novel "Curfew" (originally entitled "Crybbe").
View larger map