| | |
| --- | --- |
| Where: | Hinton St George, Somerset - village centre starting at Village Hall |
| When: | Last Thursday in October |
| Time: | Evening from 6pm |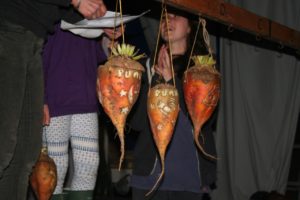 A Punkie is a hollowed-out mangold or manglewurzel with a lit candle inside to make a lantern (very much like the turnip lanterns we made as children for Hallowe'en in North-East England before the ubiquitous pumpkin took centre stage). The children of Hinton St George carry their lanterns in a procession around the village on the last Thursday in October, chanting a special rhyme; they are led by the Punkie King and Queen and prizes are given for the best designed Punkies. The origins of the custom are obscure, with legends of the original lanterns being made by the village wives going in search of their inebriated husbands lost on the way home from Chiselborough Fair. Expect at least 250 people to be there, many in spooky fancy dress ; it seems almost impossible that Punkie Night isn't closely linked with Hallowe'en and though the custom has its own unique aspects it bears a strong resemblance to traditions carried out all over the UK for Hallowe'en. The parade follows a route around the village with stops for Morris Dancing and for singing the Punkie Song, before all return to the Village Hall where the judging takes place. The punkies are hung from a special beam on the stage and there are categories for different age groups with prizes for the top 3 in each category. Don't worry about the spelling – the alternative of "punky" is also used.
Helpful Hints
In 2018 it will be on Thursday October 25th.
Refreshments are available at the Village Hall – in 2016 they were an absolute bargain with hot dogs at £1 and cakes at 50p & £1.
Click here for the event Facebook page: https://www.facebook.com/punkienight
View larger map