| | |
| --- | --- |
| Where: | Ramsey, Cambridgeshire from the Junior School on Station Road |
| When: | Plough Monday (the Monday after 6th January) |
| Time: | 1pm |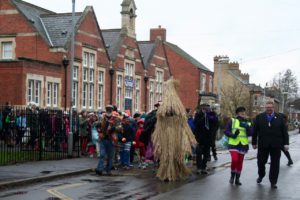 Ramsey Straw Bear is a very  modern revival (from 2009) of the ancient fenland custom of making a straw bear for Plough Monday – a person totally covered with a straw costume and led through town. The reappearance of the event at Ramsey after a break for many years may well inspired by the success of the Whittlesea Straw Bear Festival (see separate article) and the featured straw bear is a very similar constuction. At Ramsey, the Bear leads a parade of  hundreds of children from the Junior Schools to the site of the old Abbey, accompanied by musicians and molly dancers and singing a special song. It's part of a revival of local customs and culture involving young people and ends with dancing and blessing the plough on the Abbey Green. It's a particularly exuberant and colourful celebration and the children had obviously been practising hard! The complex steps of the broom and molly dances were very well executed and all appeared to be enjoying the spectacle.
Helpful Hints
For more on Plough Monday see separate article.
In 2018 it will be on Monday 8th January.
Click here for more info: http://ramsey-and-district.ccan.co.uk/content/catalogue_item/history-of-ramsey-straw-bear
Click here for the Molly Dancers: http://www.ousewashes.com/Ouse_Washes_Molly_Dancers/ousewasheshome.html
and here for the Ramsey website: http://www.discoverramsey.co.uk
View larger map