| | |
| --- | --- |
| Where: | Richmond, Yorkshire starting at the Town Hall |
| When: | Wednesday late in August every 7 years |
| Time: | 8.30am |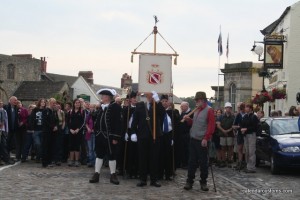 Beating the Bounds at Richmond in Yorkshire still takes place – but only every seven years. Ascension Day was a popular time for boundary-marking customs to be carried out and a few of these survive today – the custom in Richmond used to be on Ascension Day but has been moved to August in order to allow schoolchildren to participate when they're on their summer holidays. The parish of Richmond is a large one and the Perambulation around it is about 14 miles long, led by halberdiers, mace-bearers and officials including the Mayor. Proclamations are made by the Bellman en route and the Water Bailiff actually has to enter the waters of the River Swale twice where the boundary falls midstream. Coins are thrown for children at 5 points on the walk, and all who complete the course are entitled to a certificate!
Helpful Hints
The man armed with an axe is the Pinder, whose job is to clear the way for the Procession – he leads the way at all times on the walk.
The next Boundary Riding is in 2018.
Click here for more info : http://www.richmond.org/guide/boundray-riding.html
View larger map