| | |
| --- | --- |
| Where: | Ripon, North Yorkshire at the Cathedral |
| When: | 2nd February |
| Time: | 7.30 pm |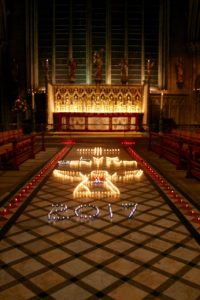 Candlemas is a Christian festival commemorating the presentation of the infant Jesus at the Temple, and it always takes place on February 2nd, marking the very end of the Christmas season. It is widely celebrated throughout the Christian church tradition, but at Ripon the festivities have taken on a spectacular form of their own. The Cathedral is illuminated by literally thousands of candles representing Jesus as the Light of the World, and it takes about twenty minutes for the 5000 candles to be lit. The Cathedral choir lead the worship and during the service the congregation are invited to process around the church with their own candles following the Bishop. In the Chancel, there will be a cross with the current year's date picked out in candles in a blaze of light.
Helpful Hints
While it's always held on 2nd February, the time can vary a little from year to year so I'd advise you to double check before travelling. The service lasts for around an hour and a half or so. Photography isn't permitted during the service, but there are opportunities to take photos beforehand if you arrive early enough, or afterwards.
Click here for the Cathedral website: http://riponcathedral.info
and here for the Facebook page: https://www.facebook.com/Ripon-Cathedral-183714029190/
Click here for a first-hand account:https://traditionalcustomsandceremonies.wordpress.com/?s=candlemas
Thanks to Ross Parish for drawing this event to my attention!
View larger map