| | |
| --- | --- |
| Where: | Ripon, North Yorkshire at the Cathedral |
| When: | Christmas Day |
| Time: | 10.30 am |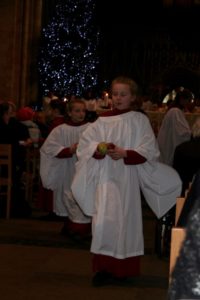 As well as the usual aspects of a Christmas Day service like carols, prayers and the telling of the Nativity story, at Ripon the choristers distribute rosy red apples to the assembled parishioners. An extra Christmas present for visitors, and maybe enough to keep them going until Christmas lunch! The distribution is believed to have its origins back in medieval times and the service is full of rousing Christmas carols. In the past the apples were each bedecked with a sprig of rosemary and the apples are believed to symbolise life, while the rosemary was to remember His Mother Mary. Nowadays the apples are handed unadorned to all members of the congregation by the choristers, who later form an orderly queue in the nave to receive a cash Christmas bonus.
Helpful Hints
The dole takes place during the jolly Festal Eucharist with the choir, just before the Blessing and singing of the final carol. The service lasts around an hour-and-a-half including Communion.
Click here for the Cathedral website: http://riponcathedral.info
View larger map