| | |
| --- | --- |
| Where: | Different location each year |
| When: | Maundy Thursday |
| Time: | 11am |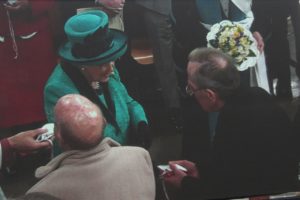 Royal Maundy takes place every year on the Thursday before Good Friday, which is known as Maundy Thursday. The reigning monarch gives a gift of money to the elderly – to one person for each year of the monarch's life; in days of yore they would also wash the feet of the poor in memory of Jesus washing the feet of the Disciples, but that hasn't happened since the late seventeenth century. It now takes place at a different Cathedral each year and the worthy recipients are chosen from the local community. Yeomen of the Queen's Bodyguard will be present as well as the Royal Family. The Queen has now visited all the Cathedrals in the country at least once for Maundy Thursday.
Helpful Hints
Participation is by invitation only but anyone can watch outside. My photos are from 2017 at Leicester and were taken from views of the big screen erected in Jubilee Square so that everyone could see the service even if they weren't inside the Cathedral.
In 2018 it will be on Thursday 29th March – location has yet to be announced (this usually happens in January or February).
Click here for the event website : http://www.royal.gov.uk/RoyalEventsandCeremonies/RoyalMaundyService/Maundyservice.aspx