| | |
| --- | --- |
| Where: | Bristol at St Mary Redcliffe Church |
| When: | Whit Sunday |
| Time: | 11am |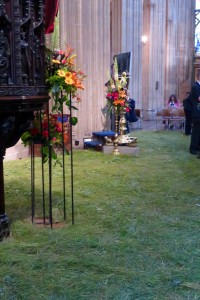 Before churches had paved floors, rushes were strewn to keep the earth floors sweet and it was common to make a special occasion from their annual renewal. Few such customs survive and the ones which do are mainly in North-West England so the service at St Mary Redcliffe in Bristol is special.  Its history can be traced back to the fifteenth century when it was founded by local merchant William Spenser and today the procession is still attended by Bristol's Lord Mayor, High Sheriff, Chief Constable, Sword Bearer, Aldermen and Councillors in their regalia. The church is lavishly decorated with flowers and herbs, the dignitaries are all given nosegays and the floor is covered with rushes; after the service refreshments are served outside ( sherry and delicious madeira cake). Those seated in the aisles can watch the parts of the service which are out-of-view on thoughtfully placed big screens. It's a traditional service with a superb choir.
Helpful Hints
It's well attended so allow plenty of time to get in. Tickets are issued at the door for visitors and there were plenty available in 2015 though you might wish to apply in advance if planning a long journey. If you want to go to the service and take photos of the procession, you'll need to go twice at least as it isn't possible to do both.There are many VERY well-dressed attendees but all are welcome regardless of attire. If you like church architecture ( I do!) allow even more time to explore the plethora of fine monuments and features inside, and look out for the church cat's grave on the grass outside.
In 2018 it will be held on Sunday 20th May.
Click here for the church website : http://www.stmaryredcliffe.co.uk
View larger map