| | |
| --- | --- |
| Where: | Rye, Sussex starting at Mason Road on Tilling Green Estate |
| When: | Saturday in mid November |
| Time: | 7.50 with Fireworks at 9pm |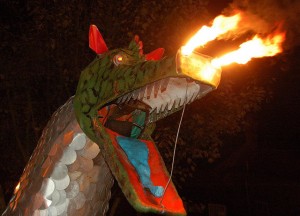 Rye Bonfire Society host their celebrations the weekend after most people have burned their guy and let off the fireworks, and their bonfire is unique as it features a procession beforehand with participants in fancy dress and a fire-breathing dragon, and a bonfire with a burning boat. It's a family orientated festival with a welcome for all ; members of several other Sussex bonfire societies take part. The origins of the event may be even earlier than the Gunpowder Plot as residents were setting fires to celebrate victory over the French back in the fourteenth century – it is thought that the burning boat commemorates this triumph. The boat is part of the structure of the bonfire so doesn't tour the town, but Rye Fawkes is part of the parade, "chaired down" to the fire site in a special equipage carried aloft by sturdy bearers – Rye Fawkes being the name given to the individual who has the honour of setting the bonfire alight. It goes ahead even in inclement weather – and the heat from the bonfire will certainly keep you warm! A firework specular takes place at around 9pm once the bonfire has burned down a little – though it burns for a long time into the night, with bangers added to keep it interesting!
Helpful Hints
Money raised is used for charitable works and to ensure the future survival of the event- there will be street collections so give generously if you can.
Parking is available at the local Rugby Club on New Road (£5 in 2016) which we recommend as it's tricky to get a space in town on the night – take your boots as it can be muddy underfoot. Food & drink are readily available at the Rugby Club and from stalls at the carpark (no parking on Bonfire night!) on Fishmarket Road adjacent to the bonfire site.
In 2017 it was on Saturday November 11th – 2018 date is yet to be confirmed.
.
Click here for the event website : http://www.ryebonfire.co.uk/
Photo (dragon) by Daniel Skinner.
View larger map