| | |
| --- | --- |
| Where: | Rye, Sussex at the Town Hall in Market Street |
| When: | May Day Bank Holiday Monday |
| Time: | 11am with Scrambling at 12.30 |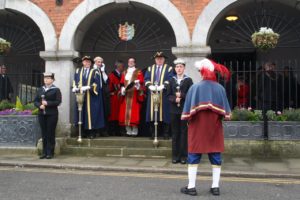 The ancient Borough of Rye has records dating back to the thirteenth century; nowadays the Town Council elect their Mayor annually in a ceremony on May Day. Like Winchelsea (see separate article) the Council at Rye is part of the ancient Confederation of the Cinque Ports, formed to protect the coast from attack. Full regalia is worn and the towns two pairs of maces are carried. The new Mayor, Clerk and Sergeant all swear oaths of allegiance to the Monarch, town and its inhabitants after the election. Traditionally the new mayor throws hot pennies from the upstairs window at the Town Hall and the local children scramble to pick them up in the street below. Also expect the town crier and the Cinque Ports Volunteers in period uniforms.
Helpful Hints
Rye is full of interest with its long history, smuggling connections and ancient buildings.
The event is held on the Bank Holiday Monday in early May and in 2018 this is on Monday May 7th.
Click here for more info on the Town Council's website : http://www.ryetowncouncil.gov.uk/whatwedocivicceremony.aspx
View larger map