| | |
| --- | --- |
| Where: | Coventry, Warks at the Brandon Marsh Nature Centre |
| When: | Sunday in mid January |
| Time: | 11 am- 2 pm |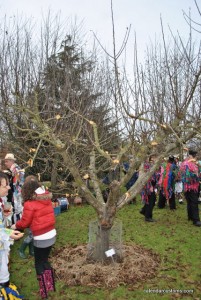 The organic gardens at Ryton in Warwickshire used to host an annual wassailing event each January but Wassailing has now moved to Brandon Marsh Nature Centre near Coventry. It's now organised by local side Elephant Up a Pole Morris and while I have limited information so far I expect it will follow a similar format to other wassails – expect morris dancing from several sides with different traditions,poetry recitations ,Morris Dancers encircling the main tree, then beating the ground with sticks, while the crowd make as much noise as they can to scare away evil spirits. Cider soaked toast may be placed in the branches to encourage a bumper crop for the next seasons apple harvest.
Helpful Hints
It's a family friendly event which moved venue when the Ryton Gardens changed hands in 2013. Now it's at Brandon Marsh Nature Centre. In 2017 it was on Sunday January 15th – 2018 date is yet to be announced.
Click here for the venue website : http://www.warwickshirewildlifetrust.org.uk/reserves/brandon-marsh
Photos by Lisa Lawrence (my Midlands Correspondent!) from when it took place at Ryton Organic Gardens.
View larger map