| | |
| --- | --- |
| Where: | Salisbury, Wiltshire starting at the Guildhall then Market Square |
| When: | Sunday nearest April 23rd |
| Time: | 11am until 4pm |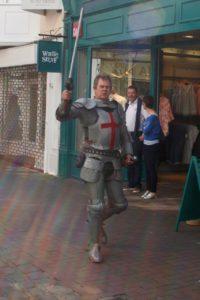 St George's feast is celebrated particularly enthusiastically in the ancient city of Salisbury, where Sarum Morris lead the festivities, sometimes with Christopher the Giant and always with Hob-Nob, a rather sinister dragon hobby-horse figure with snapping jaws and sharp teeth who clears the way ahead. There have been giants in processions in the city since medieval times (you can still see the fragile retired figures of the original figures of old Christopher and Hob-Nob in the Museum) and Morris Dancers have been active there since the sixteenth century. Christopher towers over the crowds and dancers below. The day starts with a procession from the Guildhall, led by local Civic dignitaries accompanied by the dancers and other performers; later in the day expect a play of George & the Dragon and plenty of other related entertainments.
Helpful Hints
The event takes place on the Sunday nearest St George's Day rather than always on 23rd April itself. In 2018 it will be on Sunday April 22nd.
Click here for Sarum Morris' website : http://www.sarummorris.co.uk
Click here for the city Council : http://www.salisburycitycouncil.gov.uk
Click here for the Museum's information about Hob Nob and Christopher: http://www.salisburymuseum.org.uk/collections/medieval-salisbury/giant-and-hob-nob
View larger map