| | |
| --- | --- |
| Where: | Formerly Croyde, Devon at the Beach |
| When: | Formerly a Sunday in June,July or August |
| Time: | Formerly from 12 noon with judging at 4.30 |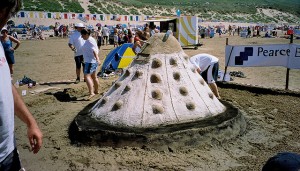 Sandcastle competitions take place at beaches all around the UK all summer long; the event at Croyde was a charity fundraiser which was perhaps the most widely known and was officially the "National" contest of this type. It had been well established for over 15 years and moved venue from nearby Woolacombe to Croyde so vistors had to be sure to turn up at the right place! Teams of up to six competitors had three hours in which to build their structures and seven square metres of sand to use. Crowds of up to 10,000 were likely to attend and all ages were welcome.
Helpful Hints
Croyde is a sandy beach (obviously!) with rock pools and there were other entertainments and music on site. The new venue for the event was used from 2013 (it used to be held on Woolacombe beach just up the road).
The event was having a rest for 2015 but I was told it would be back in 2016 -I have found no evidence of this and I conclude that the event has lapsed.
Click here for more info : http://www.sandcastle.org.uk/UKNationalSandcastleCompetition.aspx
and here: http://www.visitilfracombe.co.uk/what-is-on/north-devon-events/item/351-uk-national-sandcastle-competition
Photo by fraznrach.
View larger map