| | |
| --- | --- |
| Where: | Sandwich, Kent at St Peters Church on Market Street |
| When: | Daily (except Sundays, Christmas Day & Boxing Day) |
| Time: | 8pm |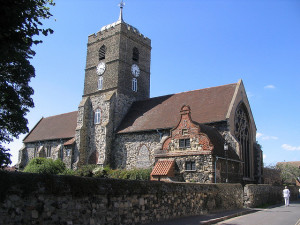 In the past it was common practice for a curfew bell to be rung, to let people know it was time to cover their fires and get to bed. Sandwich is one of the select few places where this still happens! In the past it used to be rung twice daily, once as now at 8pm called the Pigbell which was the signal to put the animals outside for the night and cover the fire and once at 5am called the Goosebell ( I haven't found an explanation for the naming of this one, but I expect the nearby residents were relieved when it stopped being rung every day!).
Helpful Hints
Don't go on a Sunday as that's the only day the curfew isn't rung (apart from Christmas Day and Boxing Day when the ringers get a holiday).
The ringing lasts for about 10 minutes.
Photo by Andrew M Butler.
View larger map