| | |
| --- | --- |
| Where: | Birmingham, York, Exeter and several other locations in UK (see link under Helpful Hints) |
| When: | Near 13th December |
| Time: | Early evening (see links on Helpful Hints) |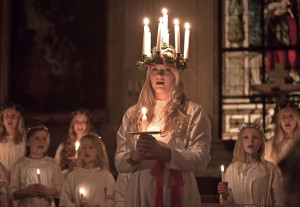 Saint Lucy or Sankta Lucia Services are held at a growing number of locations throughout the UK, though the origins of the festival lie in Scandinavia. St Lucy was a fourth century Christian martyr and her feast day is December 13th; she is associated with bringing light into the winter darkness.The traditional events follow the Swedish pattern of a candle-lit procession in church  with special carols and readings, led by a girl representing the Saint wearing white robes with a crown of blazing candles. It's a visual spectacular which probably explains its recent growth in popularity, and it fits well into the Advent services in the lead-up to Christmas.
Helpful Hints
A number of churches in the UK host Sankta Lucia services, particularly in towns which have current or historical associations with Sweden; they're often held on a day near December 13th rather than on the date itself. The services are a relatively recent occurrence in the UK, dating in the main to the 21st century, though following ancient Swedish precedent. Click the links below to find out more.
In Birmingham the 2017 date was Monday 11th December at 6pm – 2018 date is yet to be announced. Click here for the website : http://www.birminghamcathedral.com
In York Minster, it was on Friday 8th December 2017 at 7.30pm- 2018 date is yet to be announced. The service finishes by 9pm  (approx). While you're there look out for the biggest advent wreath in the world, hung below the crossing.Click here for the website: http://yorkminster.org
For more venues click here:http://translate.google.com/translate?hl=en&sl=sv&tl=en&u=http%3A%2F%2Fwww.svenskakyrkan.se%2Flondon
Photo (above) by Bengt Nyman.
View larger map
View larger map
View larger map