| | |
| --- | --- |
| Where: | Dunbar, Prestonspans & Pinkie - rolling location year-by-year |
| When: | 3rd Weekend in September |
| Time: | 10 am - 5 pm |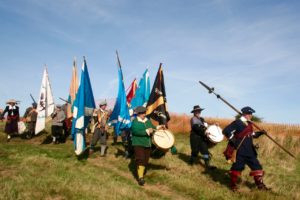 The Scottish Battlefields Trust host a trio of commemorations of Lowlands battles, always held on the third weekend in September but moving venue around the relevant sites in turn. Expect historically accurate large battle re-enactments along with talks, displays and living history.  The Battle of Prestonpans was the first significant battle in the Jacobite rising, in which Bonnie Prince Charlie's troops were victorious over those of King George II; it took place on September 21st 1745. The Battle of Pinkie Cleugh was fought on 10th September 1547 and was part of the "Rough Wooing" campaign where the English were trying to have Mary Queen of Scots married off to Henry VIII's young son Edward; the day ended in victory for the English and was the last pitched battle between the two nations. The Battle of Dunbar took place on September 3rd 1650 as part of the Civil Wars; the forces of newly crowned Charles II took on those of the Protectorate under Oliver Cromwell; Cromwell's troops were victorious and Charles fled into exile. As each of these battles took place in September in locations relatively close to each other, it makes sense that each one takes a turn centre stage so that the different stories and backgrounds can be presented to the public in detail.
Helpful Hints
In 2017 Pinkie is the focus of the re-enactment Spectacular and the event will take place on Saturday 16th and Sunday 17th September. Each battle has its own smaller commemoration when it isn't the featured site for the spectacular (see Battlefields Trust link below for details). Admission in 2016 was £6 and it was a very good value day out. Refreshments and parking were on site and it was enjoyed by all ages.
In 2018 the Spectacular will be at Prestonpans and in 2019 it will be Dunbar's turn.
Click here for the Scottish Battlefields Trust : http://www.scottishbattlefields.org
Click here for the event website: http://www.battleofprestonpans1745.org
View larger map