| | |
| --- | --- |
| Where: | Haworth, Yorkshire - town centre at the Cobbles and the Parish Church on Main Street |
| When: | Sunday in late November or early December |
| Time: | 2pm onwards - Procession at 3pm |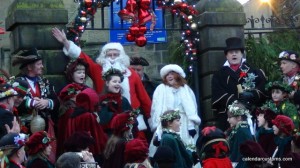 Scroggling the Holly marks the start of the festive season in Haworth, and is a modern ceremony involving gathering holly to decorate the town. Expect lots of Victorian style fancy dress (Haworth is of course the hometown of the famous Bronte sisters who dwelt at the Parsonage in the nineteenth century) in a procession with Oakworth Village Morris Men,chimney sweeps, a holly cart, brass bands and other musicians and entertainers. The parade goes up the cobbles from the Christmas Tree to the church, where the Holly Queen is crowned on the steps before the gates are opened with a special key to admit the spirit of Christmas and Santa.
Helpful Hints
If you're there for the weekend, look out for pixies spreading fairy dust on Scroggleve at around 3pm. The whole event is very family friendly. Don't wait on the steps to the church gate as spectators are moved from there for the ceremony. The procession starts at the bottom of the hill at around 3pm and takes some time to get up to the church – it can get pretty nithering in Haworth in winter so wrap up well!
Haworth is also famous for its firm of car clampers so be careful where you park!
In previous years it used to be in mid November and it's moved a little in date over recent years, sometimes falling in early December.
In 2016 it was on Sunday 27th November – 2017 date is yet to be announced.
Click here for the Haworth Facebook page: https://www.facebook.com/haworthvictorianchristmas/
Click here for the village website events page: http://www.haworth-village.org.uk/events/events.asp
View larger map