| | |
| --- | --- |
| Where: | Sedgefield, Co Durham at the Bullring (on the corner of High Street and Northend) |
| When: | Shrove Tuesday |
| Time: | 1pm |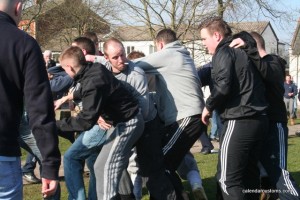 The game at Sedgefield has been played for hundreds of years, supposedly since the masons working on the church challenged the locals  back in the fourteenth century. It starts when an honoured guest passes the  small ball (just bigger than a cricket ball) through the Bull Ring and throws it to the players. Unusually this is not a team game –  after it has been dunked  in water at the Town Goal,whoever has possession of the ball and can pass it back through the Bull Ring, gets to keep it. Play is fast and takes place around the greens by the Bull Ring and the church further east, and sometimes the ball goes to neighbouring villages during the game ; it always comes back around 4pm ready for dunking and the final ferocious struggle to win.
Helpful Hints
Eat your pancakes first! It's considered lucky to touch the ball so be grateful if a player passes it to you; anyone in possession of the ball inside one of the pubs is entitled to a free drink. Expect a heaving scrum of bodies – stand well clear if you don't want to become swept up in it. Look out for the Millennium Sculpture depicting the game – it's about 9 feet tall and stands at the north-west corner of  St Edmund's churchyard.
In 2018 the game will be played on Tuesday 13th February.
View larger map