| | |
| --- | --- |
| Where: | Selkirk - around town & in Market Place |
| When: | Friday following 2nd Monday in June |
| Time: | From 4am! Procession 7am at Market Place with return at 10.15 and Casting of the Colours at 11am. |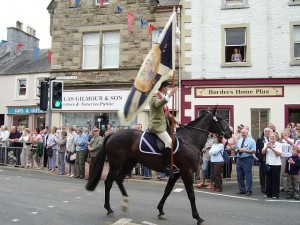 Common Ridings are a boundary marking custom on horseback. They are mainly held at locations across the Scottish Borders, perhaps because this area suffered from centuries of raiding and reiving between local families and the English, and the locals needed to protect their lands from encroachment. Long after this was necessary, the Ridings survived to become major festivals and a great day out! Selkirk's Casting of the Colours  also commemorates the return of a single surviving soldier after the Battle of Flodden in 1513 – his 79 comrades were all slain. Expect a procession of up to 500 riders and lot of  flag waving!
Helpful Hints
Whilst in Selkirk you might want to sample the local delicacy, the Selkirk Bannock (a bit like a giant teacake)
In 2014 it will take place on Friday 13th  June.
Click here for the Facebook page (which includes all the timings in detail) :
http://www.facebook.com/groups/349532702188/
Click here for the event website : http://www.returntotheridings.co.uk/
Photo by Oliver Jackson.
View larger map