| | |
| --- | --- |
| Where: | Sherriffmuir, near Dunblane, Stirlingshire, at the Battle Monument |
| When: | November 13th |
| Time: | 1.30 for 2pm |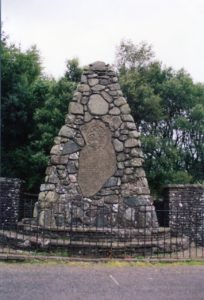 The Battle of Sheriffmuir on 13th November 1715, was an indecisive fight during the Jacobite rebellion. The Earl of Mar leading the highland Jacobites clashed with the government forces under the Duke of Argyll – and both sides claimed they were victorious! However, the battle marked the end of the Jacobite campaign of the Fifteen, and was thus an important date. Today the event is commemorated by a gathering at the Battlefield Monument, with many representatives from the clans who took part in the battle. A wreath is laid at the monument in memory of the fallen, with a short service, payers and a piper.
Helpful Hints
The commemoration takes place on the battle anniversary each year, November 13th. Conditions underfoot may be boggy so wear appropriate clothing and footwear!
The event is organised by the Association of Highland Clans – click here for their website: http://www.highlandclans.org
Members of Clan Macrae are prominent in the commemoration and you can find their website here: http://www.clan-macrae.org.uk
View larger map