| | |
| --- | --- |
| Where: | Countrywide |
| When: | February or March depending on Easter |
| Time: | All day |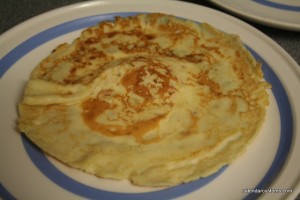 Shrove Tuesday is the day before Lent starts and got its name from the practice of being "shriven" (confessing sins and receiving absolution) before the season of penitence and fasting. On this day it was traditional to use up eggs, the consumption of which was forbidden during Lent, in the form of pancakes and this is still practised widely today all over Britain. A number of events are also associated with Shrove Tuesday including mass football games, skipping and pancake races (see Shrovetide and Lent listings for details). The date of Shrove Tuesday moves from year to year because it is linked to Easter.
Helpful Hints
Assemble a variety of savoury pancake fillings to go with the usual lemon juice and sugar – we've found maple syrup with bacon to be particularly tasty. And keep your pancakes thin then you can eat more of them! I think my record is 7.
On 2018  Shrove Tuesday falls on 13th February.