| | |
| --- | --- |
| Where: | Slaithwaite, Yorkshire starting at Carr Lane |
| When: | Late February Saturday every other year |
| Time: | 6pm |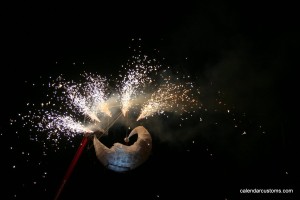 The Moonraking Festival is held every other February at Slaithwaite to commemorate a local legend of cunning smugglers, who nearly got caught retrieving their contraband hidden in the local pond ; they pretended to be simpletons raking the pond for the cheese caught in it (the reflected moon) and so the revenue men passed them by and the "Moonrakers" evaded capture. Nowadays the event is a spectacular lantern parade with a huge moon; the moon arrives by barge on the canal and a procession follows around the village accompanied by fireworks, street entertainers and music.
Helpful Hints
The exact date varies depending on the half-term school holidays but the parade is always on the Saturday at the end of holiday week. In the build-up there are lantern making workshops to prepare for the big day. Plenty of food & drinks are available in Slaithwaite.
In 2013 the Mummers were elusive – we never found them and apparently they had defected to the Rhubarb Festival at Wakefield!!
The next festival will take place in 2019 – date is yet to be announced.
It's held every other year and only on "odd" numbered years.
Click here for the event website :http://www.slaithwaitemoonraking.org/
View larger map