| | |
| --- | --- |
| Where: | South Cave, East Riding of Yorkshire at All Saints Church |
| When: | Easter Tuesday |
| Time: | Morning service 10.45 am |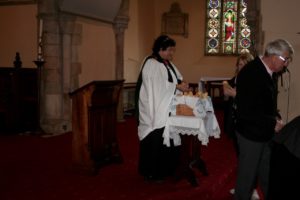 Samuel Jobson was a local benefactor who was born and lived at South Cave,and in his will he left a bequest for a dole of bread to be distributed at his church each Easter Tuesday. His will stipulated that the service must include the collect, Lords Prayer and the endowed sermon, and his wishes are still carried out today. At the end of the service, small white bread rolls are given out to the congregation, and the event ends with rousing hymns.
Helpful Hints
The date for the service moves from year-to-year as it's linked to Easter. In 2018 it will be on Tuesday 3rd April.
The service lasts around half-an-hour.
Look out for the Charity Board in the church tower, and the brass plaque to Jobson near the old font.
Click here for the church website : http://www.allsaintssouthcave.co.uk
and Facebook page: https://www.facebook.com/southcavechurch/
Click here for a first-hand account: https://traditionalcustomsandceremonies.wordpress.com/2016/03/31/custom-survived-samuel-jobson-bread-bequest-and-sermon/
Thanks to Ross Parish for drawing my attention to this event!
View larger map