| | |
| --- | --- |
| Where: | St Albans Cathedral at the Abbots Kitchen |
| When: | Ash Wednesday to Easter Monday |
| Time: | 10am - 4.30 pm (12.30-4.30 on Sundays) |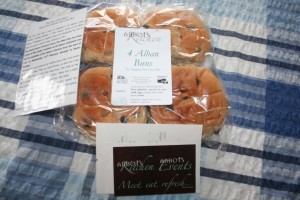 Hot Cross Buns are readily available throughout the country in the approach to Easter (and indeed it seems that they're readily available all year!) and it's traditional to eat them particularly on Good Friday. St Albans is apparently the historic home of the Bun and they've been baking the spicy snacks since the fourteenth century, when they were given out in a charitable dole to the poor. Visitors may now purchase them from the Abbots' Kitchen from Ash Wednesday onwards. Todays buns are baked to a secret special recipe and instead of having a white cross piped on top, they have one cut into the surface as a symbol of the resurrection; they have a distinctive cardamom flavour.
Helpful Hints
The Abbots Kitchen is located in the Chapter House of the Cathedral and is usually open daily from 10 am to 4.30 (12.30 – 4.30 on Sundays).
In 2018 the buns should be on sale from Wednesday 14th February to Monday April 2nd.
Click here for the website link and for contact details : https://www.stalbanscathedral.org/visit/abbots-kitchen/
View larger map