| | |
| --- | --- |
| Where: | Southwold, Suffolk at St Edmunds Church |
| When: | 20th November or near schoolday |
| Time: | 2.15pm |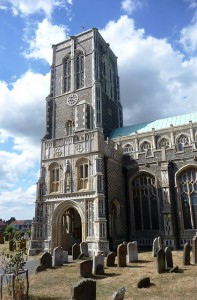 November 20th is the feast day of St Edmund; at Southwold it is celebrated by a dole of special buns at the local church which is dedicated to the saint. The children of the local primary school are given sticky buns in memory of Edmund's sticky end : pierced by arrows, headless and martyred for his faith. The Anglo Saxon King is  now Patron Saint of Suffolk and the festival is a healthy revival of an ancient custom marking his memory. All are welcome to attend and hear the story of St Edmund.
Helpful Hints
If  20th November falls on a weekend, the distribution is moved  to a near-date schoolday (often the Friday) and in some years it varies date slightly to fit in with the commitments of the participants.  The event is  organised by the Town Council and the school.
In 2017 it was on Monday 20th November – 2018 date is yet to be announced.
To find out more and get the bun recipe, click here : http://www.bbc.co.uk/suffolk/content/articles/2007/11/16/st_edmund_buns_feature.shtml
Click here for the school website (the event usually appears on their calendar) :  www.southwold.suffolk.sch.uk
here for the church: http://www.solebayteamministry.co.uk
and here for the Town Council : http://southwold.onesuffolk.net
Photo by yellow book.
View larger map