| | |
| --- | --- |
| Where: | St Ives, Cornwall - from the Guildhall on Street-an-Pol |
| When: | 1st Monday after February 3rd |
| Time: | From 9.30 preamble; game at 10.30 |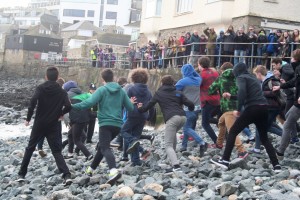 Hurling is the Cornish form of the festival handball/mass football games that typically take place around Shrovetide or Easter. The balls used are small like  Scottish handballs but are encased in silver; hurling has been a feature of Cornish life for centuries but today only two games survive annually and one of these is the St Ives game, which takes place on the first Monday after February 3rd. The day starts with a Procession from the Guildhall to St Ia's well near the beach; the Mayor in full regalia has the honour of carrying the silver ball and musicians play their special tune, accompanied by dancers. The Vicar blesses the ball in the well water and the Procession travels via the churchyard to the path overlooking the beach, from whence the ball is tossed down to children on the sands below. Only children compete but anyone can watch; play usually moves through the streets of the town. A distribution of lucky pennies to young children takes place at 11.30 at the Guildhall. Whoever has possession of the ball at noon wins, and after the Ball is returned to the Mayor there is a scramble for coins thrown from the Guildhall balcony.
Helpful Hints
In 2016 the ball disappeared from view very quickly! It's considered lucky to touch the ball – there are plenty of chances to do this after its return to the Mayor if you're too old to join in the game.
In 2018 it will be played on Monday February 5th.
Click here for more: http://www.visitstives.org.uk/events/st-ives-feast-hurling-the-silver-ball-p505483
View larger map