| | |
| --- | --- |
| Where: | Stamford Bridge, North Yorkshire at The Old Station on Church Road |
| When: | Weekend near 25th September |
| Time: | 10.30 am to 4 pm |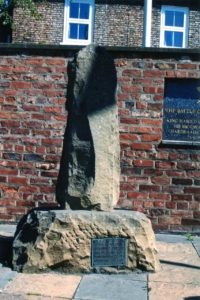 While everybody is aware that William the Conqueror defeated King Harold and the English at the Battle of Hastings in 1066, it's much less well-known that the Battle of Stamford Bridge earlier in the year was a significant contributory factor in the events of the Year of Three Kings. On September 25th, King Harold's army decisively beat off the invading forces of Norwegian Harold Hardrada in a bloody battle near York, only to be faced with a gruelling march south in a doomed attempt to see off William and the Normans in mid October. The Battle of Stamford Bridge Society organise a weekend of events each September to commemorate the conflict,and aim to promote further investigations into the history and significance of this period of history. One of the most memorable tales of the battle is that a single giant Viking stopped the English forces crossing the bridge, picking the soldiers off individually….until a brave warrior sailed under the bridge by boat and skewered him from below (obviously this is a particularly popular feature in any re-enactment!). The weekend includes  a wreath-laying ceremony at the Main Street Battle Memorial (usually on the Sunday morning but on Saturday in 2017). Expect living history encampments, craft, food & drink stalls and plenty to keep you busy for a full day out.
Helpful Hints
In 2017 there's a one-day event marking the occasion – on Saturday September 23rd. Check the event website (link below) for full details.
The Battle Monument is just up the road from the bridge on the Main Street and another is sited at the end of Whiterose Drive. The Swordsman Inn near the Bridge had a great sign depicting the giant Viking on last time I visited!
Click here for the event website: http://www.stamfordbridge1066.org.uk
and here for the Facebook page: https://www.facebook.com/1066BattleofStamfordBridge/
View larger map