| | |
| --- | --- |
| Where: | Stonehaven, Aberdeenshire - High Street |
| When: | 31st December |
| Time: | Entertainment from 11pm with fireballs at midnight |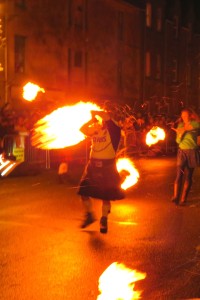 The New Year is welcomed in a unique and spectacular way at Stonehaven in Aberdeenshire – by a procession of  about 45 brave folk who whirl blazing fireballs around their heads on long wires. The balls are powered by wood and fabric soaked in paraffin and wrapped in wire mesh; they make quite a show as they are processed through the streets from midnight, before being hurled into the sea half an hour later. The origins of the festival may lie in ancient purification by fire or in rites to encourage the sun to return after midwinter. Today it's a popular festival which looks set to continue for many years. The night begins with street entertainment from 11 pm; the fireballs are lit just after the stroke of midnight on the Town House Bell.
Helpful Hints
Wrap up well (not your best clothes because there will be sparks flying) and arrive early as parking is limited.Expect large crowds – the festival is a focus for ex-pats to return to their native Stonehaven as well as a big draw for tourists. You don't need tickets to view the Fireballs but space in the High Street is limited.
Click here for the event website : http://www.stonehavenfireballs.co.uk/
View larger map