| | |
| --- | --- |
| Where: | Stow on the Wold, Gloucs in fields on the Maugersbury Road |
| When: | Thursday nearest October 24th |
| Time: | All day |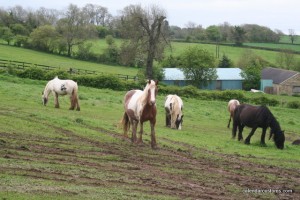 This is a traditional fair for gypsies and travelling people to meet up and trade and it dates back literally hundreds of years, the Charter being granted in 1476. It began as a sheep fair, the Cotswolds being prime country for the wool trade, but has evolved into a horse fair something like the June event at Appleby (see separate listing) with lots of equines, horse-drawn caravans and sightseers keen to soak up the atmosphere and buy from the many stalls. Travellers will be there for a few days around the Fair date, usually beginning to arrive on the preceding Monday, and will return again in May for the next of the bi-annual fairs (the May fair is the bigger of the two).
Stow Horse Fair on DVD:
The Stow Gypsy Horse Fair – A Fascinating Look At Gypsy Life [link]
Helpful Hints
In 2018 it will be on Thursday October 25th.
Parking will be available on the Cricket Field and King George's Field. Be prepared for muddy conditions underfoot!
Click here for more info : http://www.cotswolds.info/cotswold-events.shtml
and here for the facebook page : https://www.facebook.com/search/top/?q=stow%20horse%20fair&ref=eyJzaWQiOiIwLjA4MTk2NzgyNzE2NTQ5OTMzIiwicXMiOiJKVFZDSlRJeWMzUnZkeVV5TUdodmNuTmxKVEl3Wm1GcGNpVXlNaVUxUkEiLCJndiI6ImJlZTA5ZjkzZmE3MzJjZmE1OWExY2I2ZDlmNDUwZDM4OTI0MjRlNDkifQ
View larger map