| | |
| --- | --- |
| Where: | Countrywide but especially in London |
| When: | Fourth Thursday in November |
| Time: | All day |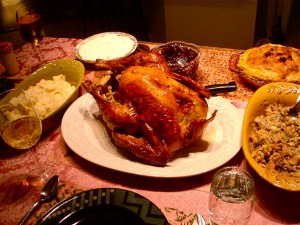 Thanksgiving is an American festival, always celebrated on the fourth Thursday of November and a National Holiday in the USA. It dates back to the days of the Pilgrim Fathers who staged a feast and gave thanks to God for their harvest after a period of near-starvation in the early day of settlement in America and it is similar in many ways to the Harvest Festival. Turkey with cranberry sauce is eaten, followed by apple pie or pumpkin pie and people try to get together with their families to exchange gifts. Because of the many links between the US and UK, Thanksgiving is widely recognised here if not widely celebrated. However a number of restuarants, mainly in London, offer Thanksgiving menus on the day (and at home it's a great excuse to start that jar of cranberry sauce which will otherwise stay on the shelf 'til Christmas).
Helpful Hints
In 2018 it will be on Thursday November 16th.
Photo by Chef Jess PhD.