| | |
| --- | --- |
| Where: | London at St Pauls Cathedral and Trafalgar Square, Portsmouth on board HMS Victory at the Dockyard, Tynemouth at the Collingwood Monument on Pier Road |
| When: | 21st October (and nearest Sunday to 21st) |
| Time: | London 11am, Portsmouth at 8am, Tynemouth 11.30 for 12 noon |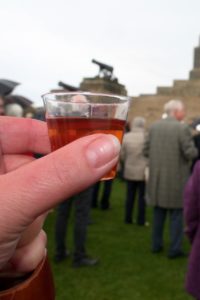 Trafalgar Day commemorates the historic victory of the British Navy over the French and Spanish at the Battle of Trafalgar in 1805. Admiral Lord Nelson commanded the fleet from HMS Victory but was mortally wounded in the engagement, so the event also commemorates and celebrates his life. Wreaths are laid at his tomb in St Pauls Cathedral and on board the Victory at Portsmouth. The historic signal "England expects…." is sent from the ship at 8am followed by a memorial service on board. At Trafalgar Square in London, the Sea Cadets put on a display to showcase their skills at 11 am before marching to the Wellington Barracks on Birdcage Walk. Expect bands and a salute – the display lasts over an hour and has been a highlight of the Sea Cadets' calendar for over a century. At Tynemouth, the other hero of the battle, Admiral Lord Collingwood, is remembered by a Toast at the monument erected in his memory – the toast is at 12 noon as that was when the first shot was fired at Trafalgar. All attendees are treated to a tot of rum to toast the Admiral, who took command of the fleet when Nelson was wounded.
Helpful Hints
This is a date which is regularly suggested as an autumnal Bank Holiday….but nothing has ever been formalised. Maybe our continental neighbours wouldn't be too keen!!
The Sea Cadets display and parade takes place on the Sunday nearest October 21st rather than on 21st itself and is free of charge. In 2018 it takes place on Sunday October 21st.
Click here for the Nelson Society website : http://www.nelson-society.com/
Click here for more on the Tynemouth Toast: http://www.northtyneside.gov.uk/browse-display.shtml?p_ID=562740&p_subjectCategory=23
View larger map