| | |
| --- | --- |
| Where: | Shebbear, Devon outside the Devil's Stone pub |
| When: | 5th November |
| Time: | 8pm |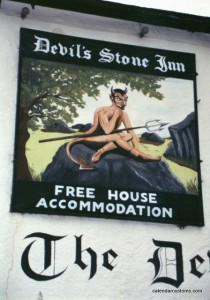 When the rest of the country is setting off fireworks and bonfires on Guy Fawkes  Night, the villagers at Shebbear attack a huge boulder on the green with crowbars. They have to turn over the Devil's Stone, which weighs about a ton and is approximately 6 foot by 4, otherwise bad luck will follow. The origins of the custom are steeped in legend – the stone was dropped by the Devil himself- but why turning the stone averts misfortune, nobody knows. The church bells are rung, the Vicar says a prayer and the stone gets turned over for another year.
Helpful Hints
The village pub next to the boulder is named after it : The Devil's Stone Inn and has a painted sign with Old Nick himself sitting on the stone.
Click here for the pub website : http://www.devilsstoneinn.com/index.php?pub_id=1
View larger map