| | |
| --- | --- |
| Where: | Berwick upon Tweed, at the Town Hall & Queens Gardens, Tweedmouth (over the river) |
| When: | Thursday and Saturday in late July |
| Time: | Thursday 6.30 Town Hall , 7pm Queens Gardens, Saturday from noon |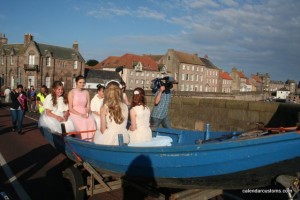 Tweedmouth Feast is an annual celebration held at Berwick upon Tweed; the high point is the Procession surrounding the coronation of the Salmon Queen on the Thursday night. Starting at the Town Hall, the Queen and her attendants make their way to the Queen's Gardens  where the Mayor performs the ceremony; the Queen travels in style in a fishing coble but these days instead of being rowed over the Tweed, her boat is towed over the old bridge. As well as the Berwick Pipe Band, there are other entertainments and a funfair. Expect lots of flag waving , fancy costumes and uniforms. Berwick used to be a centre for the salmon fishing industry and the festivities celebrate this heritage; the origins of the festival reputedly lie back in the twelfth century.
Helpful Hints
In 2016 the crowning was on Thursday July 21st with a carnival and fair on Saturday 23rd and further entertainments on the Sunday – 2017 dates are yet to be announced.
Click here for the event website (from March 2016 this was broken but I've left it on in the hopes that it will be fixed at some point) : http://tweedmouthfeast.org.uk/index.html
and here for more: http://www.berwick-tc.gov.uk/events/
View larger map