| | |
| --- | --- |
| Where: | Old Bailey, London - from Church of the Holy Sepulchre, Holborn |
| When: | August Bank Holiday Monday |
| Time: | 1pm onwards with Mass at 3pm |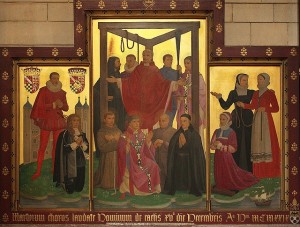 The Tyburn Walk is an annual commemoration of the Catholic martyrs who were executed here during the Sixteenth and Seventeenth Centuries. The route is that travelled from prison to execution so starts near the Old Bailey (built on the site of  Newgate gaol) and ends at Tyburn Convent near Marble Arch. The event started in 1910 and is a solemn commemoration of those who died for their faith. It's followed by Mass at the Tyburn Convent.
Helpful Hints
The Tyburn Convent at the end of the walk commemorates the martyrs all year round.
In 2017 it was due to be on Monday August 28th but was cancelled quite close to the date -I'll be checking well ahead for 2018 as I only found out about the 2017 cancellation at the last minute. It's organised by the Latin Mass Society.
Another walking event used to be in late April/May and more recently has been in  June though the date varies a little from year to year but the LMS walk is much easier to find details for.
Click here for more: http://www.lms.org.uk
Interior photo by Lawrence O P.
View larger map