| | |
| --- | --- |
| Where: | River Thames from Putney to Mortlake |
| When: | Weekend in late March or early April |
| Time: | 4.30pm in 2017 (though a little variable from year-to-year so double-check) |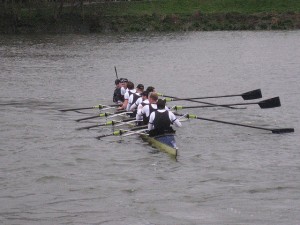 The annual Oxford-Cambridge University Boat Race is well fixed in popular culture so is included here; it's been happening since 1829 and the location has been fixed for many years after a few changes in the early days.  The contest takes place on a spring Saturday over a 4 mile course from Putney to Mortlake, and the banks of the Thames are lined with crowds all the way. The starting place is just upstream from Putney Bridge, while the finish is downstream of Chiswick Road Bridge. Teams of eight rowers plus their cox compete for the coveted prize, sometimes with a few disasters on the way – the result is never a foregone conclusion.
Helpful Hints
In earlier years the race was usually held on Saturdays then Sundays in the afternoon, and for 2015 it was back to Saturday again. Times have also varied a little so double-check.
In 2017 it was on Sunday 2nd April – 2018 date is yet to be announced.
Click here for the event website : http://www.theboatrace.org/
Photo by Mark Freeman.
View larger map