| | |
| --- | --- |
| Where: | Long Clawson, Leicestershire at the Crown & Plough, East End |
| When: | 3rd Sunday in October |
| Time: | Registration from 11.30am & conkering from 12.30 until about 3pm |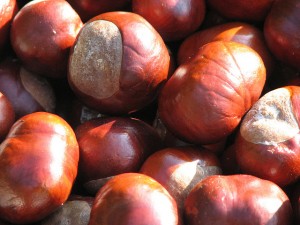 October is the month for playing conkers. Contestants take turns of three attempts to strike their opponent's conker, until one of them smashes; the competitors have a total of nine strikes per match and are timed out after five minutes. If the conkers are both still intact, then judges must decide a winner on technique and number of hits. The event at Long Clawson has been running for quarter of a century (until 2013 it was at the Village Hall) and the conkers used are all local ones, gathered in the village and stored for the competition.
Helpful Hints
In 2017 it will be on Sunday October 15th.
Click here for the village website : http://www.long-clawson.com/
here for the pub: http://www.crownandplough.co.uk
and here for contact details for the event : http://longclawsonvillagehall.org/conker.shtml
Photo by Peppergrasss.
View larger map