| | |
| --- | --- |
| Where: | Wakefield, Yorkshire at the Cathedral Precinct |
| When: | Weekend in late February |
| Time: | 10am - 4pm |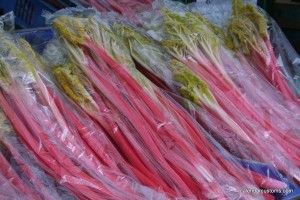 Wakefield was traditionally a centre of rhubarb growing and the modern foodie festival celebrates this heritage each February. The Rhubarb Triangle is the Wakefield-Leeds-Morley area in which the fruit has been grown for over 150 years; the conditions here were ideal with suitable soil, plenty of local fuel from the mines and large numbers of market gardeners. Much of it is grown in dark forcing sheds, which are a feature of the local landscape and bring in an early crop. Tours of the sheds are arranged as part of the festival (see website for full details) and the main event is the Yorkshire Market which includes cookery demonstrations, street entertainment and of course plenty of rhubarb!
Helpful Hints
There are plenty of other food options for rhubarb refuseniks – rhubarb consumption is not compulsory (but the Rhuby cheese is delicious!!)
In 2018 the festival runs from Friday 23rd to Sunday 25th February.
Click here for the event website : http://www.wakefield.gov.uk/events-and-culture/events/festival-food-drink-rhubarb