| | |
| --- | --- |
| Where: | Little Walsingham, Norfolk at the Shrine Church |
| When: | Wednesdays and Saturdays from Easter until the end of October |
| Time: | 8pm |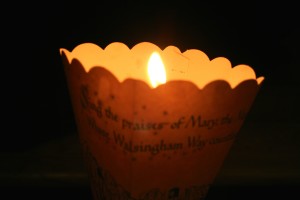 The Shrine of Our Lady of Walsingham was one of the most venerated destinations for English pilgrims before the Reformation and since the 1920s has again become a focus for devotion. In the eleventh century local landowner Lady Richeldis had a vision of the Holy House in Nazareth; the Blessed Virgin Mary instructed her to build a replica of the House at Walsingham and in addition the Priory grew up alongside the shrine. It was particularly associated with the problems of motherhood and childless couples visited in the hopes of being blessed with future offspring; many royal visitors attended until the Priory was dissolved in the sixteenth century. Today visitors are again welcomed to worship and in addition to a host of other services, pilgrims are welcome to take part in the twice-weekly Procession of Our Lady of Walsingham. During the Procession, a statue of Mary is carried adorned with flowers around the grounds of the Shrine Church whilst hymns are sung and the congregation hold aloft their candles.
Helpful Hints
Accommodation and refreshments are available on-site and the well-stocked Shrine Shop is nearby.
For full details click here :http://www.walsinghamanglican.org.uk
The Shrine Church is Anglican; Roman Catholic services also take place at 8pm up the road at the Slipper Chapel, where devout pilgrims might remove their footwear in order to complete the last mile of their journey barefoot. Click here for their website : http://www.walsingham.org.uk
The Priory ruins may be seen in the village and the parish church is worth a visit.